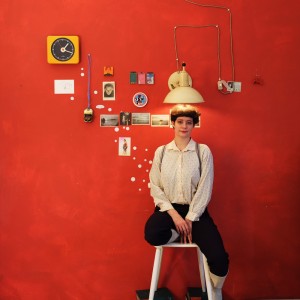 Christina Hartl-Prager, born 1980 in Innsbruck/AT, lives and works in Vienna.
After a multiple education as journeyman for house painter, paperhanger, signage manufacturer, gilder and sculptor, Study at Art University Linz Fine Art/Transmedial Space and at NCAD Dublin.
In her works she deals with perception and the nature of socio-cultural reality. Her fragmentary installations and photographs are constructs of subjective snapshots whose artistic transformation methodically.
Christina Hartl-Prager uses photography as a means of documentation and visual post-it to archive details, geometries and shapes.
Reworking with marker was in the beginning a pragmatically chosen method to reduce to the very essentials.
Primary here is both the contextual as well as the emotional approach. As Frank Eugene said at the beginning of the 20th century in context of his photo engravings "The banal surroundings which were inessential and disruptive to the photograph as a whole were removed [..], but nothing else was changed, neither the light nor the shadows, nor the form and line"
The key point concerns the retouching of the unnecessary from the whole, which, as opposed to Eugene, happens very precisely extensively, whereby the emerging black surfaces become distinct and autonomous shapes.
The dismissals and detachments from concrete environments created by overpainting facilitates a reduced and abstracted image.
Whereas Bernd and Hilla Becher had a typographical approach by the separation of photographer and motive, here, with the series of line expansions, intuitive decision-making is purposefully given space. Thus spontaneous artistic aspects and perspectives are being considered.
The removal
of object-like, geometrical structures from specific environments and the liberation of these objects from an existential clutch step into the foreground.
The strict compositions, mostly without perspective, are being parted from their specifically topographical and cultural context and so the serial arrangement enables comparisons.
This typological point of view of common, architecturally time embodying buildings, objects and the repetitious application of simple shapes outline the area of work and condense the intensity to the alignment of shapes.
NEWS / COMING UP
coming soon
Residencies / Purchase / Promotions
Residency at Mehlerhaus Tux / 2018
1st 2018 ArtSlant Prize Showcase Winner in Category Drawing / 2018
Purchase by the Arts and Culture Division Federal Chancellery of Austria, Department Photography / 2017
7th 2016 ArtSlant Prize Showcase Winner (work: trace#5) Category: Drawing / 2016
featured Artist – Under the Radar – on artslant.com/worldwide / 2016
Residency at B5 Studio, Targu-Mures / RO / 2015
Project promotion "line expansions" Austrian Ministry for Education, Arts and Culture / 2015
Residency at De Liceiras 18, Porto / PT / 2015
Shortlisted artist at CHIMERA PROJECT Award / 2014
Residency AQB Budapest / HU / 2013
Working scholarship,  Austrian Federal Ministry for Education, Arts and Culture / 2013
Project promotion Book
of Meme"  Land Tirol / 2013
Gueststudio WUK Vienna / 2011-2013
Project promotion LinzEXPORT ( "Moving EXPERIMENT") / 2011
Project promotion Austrian Ministry for Education, Arts and Culture ("Moving EXPERIMENT") /2011
Working Scholarship, Austrian Federal Ministry for Education, Arts and Culture / 2009
SELECTED
2018
– Entropy performance and exhibition / Künstlerhaus 1050 Vienna / AT
2017
– Entropy@Ars Electronica Festival, Linz /AT
– Art on perscription, Venezia / ITA
– "Condideration room part1 (the hare and the hedgehog)" solo, WHITE DWARF projects, Vienna / AT
2016
– NOW! Fotografie der Gegenwart, Haus der Fotografie, Vienna / AT
-Hafenfest Favoriten, Tattoo Action, Vienna/AT
-Opera of Entropy, WerkX, Vienna / AT
-Hang zu 3 Szenarios- Group, Möe Vienna / AT
-details#1- Solo, Picture of the Month, Werd1, Vienna / AT
-Opera Publica- Groupshow, Künstlerhaus Wien, Vienna / AT
-EIGHT PRESENT ARTISTS- Groupshow, MAGMA Contemporary, Sfântu-Gheorghe / RO
2015
"Industrial Habitats" Solo Show, within EIGHT PRESENT ARTISTS, Gallery Camera K'arte, Targu-Mures / RO
"SPUREN LEGEN-Gegenwartskunst", Bezirksmuseum Mariahilf, Vienna / AT
"Handapparat der Neugierde" Members Exhibition, Gallery IG – Bildende Kunst, Vienna /AT
"line expansions (tattoo-action)" Labratory ENTROPY, TQ Vienna / with Thomas J. Jelinek and Guests, Vienna / AT
"Kleine Lieblinge III – Duette" with Klaudia Medano, Karl Kilian Tage 2015, Vienna / AT
"line expansions (Houses)" De Liceiras 18, Porto / PT
 2014
"house Nr.1" Karl Kilian Tage 2014, Vienna / AT
"line expansions (House Nr.1-4)" Kunstkammer 17, Vienna / AT
"Kapierst du nicht
, dass das der Himmel ist" The smallest Gallery Graz / AT
with Stephan Pirker
 2013
"line expansion (manual)" Kunstperlen – Konnektor Kunstforum Hannover / DE
AQB at ARTplacc- Contemporary Artfestival  Tihany / HU
2012
EAM Experimental Art Meeting, Oradea / RO
2011
"dear future" KUNSTZELLE WUK, Vienna / AT
"road to nowhere" gallery dada 39, Vienna / AT
"MOVING EXPERIMENT Cinema Progresul", Targu-Mures/RO
2010
"Keeping track on infinity",  APPARTEMENT, Berlin / DE
"perescope#1", Transartfestival 2010, Nestroyhof, Vienna / AT
"Oh my God", Salon Vienna, SOHO Ottakring, Vienna / AT
2009
"zu Besuch" with Anna Scheer and Arne Forke, Hofburg bewegt, – a Coop.Proj. TQ, Office of federal President Austria Hofburg, Vienna / AT
2008
"Cabina- der Interpretationsautomat", with Yolanda Espinoza, [R][O][O][M][S] , Anatomietheater, Vienna / AT
"EAT", Diploma, Gallery Kunstraum Goethestrasse, Linz / AT
2007
"Zehntausend Freunde", Kaufparkgalerie and around, Alterlaa, Vienna / AT
"UNHEIMLICH", exhibition in a garret, Linz / AT
2006
"entwürfe", Salzamt, Linz / AT
"open Studio on Tour" / IRL
2005
"Sprachraumprotokolle", with Andrea Reisinger,Flagship Europe, a project of Raum&Designstrategien Linz / SK / HU / SRB / HR / RO
"schöne neue Welt/brave new world" with Andrea Reisinger, WYSPA  Docks of Danzig / PL
"open Studio on Tour" / PL
2004
"besetzt" Hofgasse 3, Sculpturing Class Art-University, Linz / AT
"kick it!" with Valerie Pelet, Platz machen, fiftitu% / Kapu, Linz / AT
"special guests" Artistgroup Kalida, PMK, Innsbruck / AT
"WWEH" superart- der Kunst Supermarkt, ©opyshop, Linz / AT
2003
"Fata Morgana" kunstprojekte_riem, Munich / DE
"das Objekt meiner Begierde" in Bewegung, Sculpturing Class Art-University Linz  / AT
2002
"aus.graben 2" with Kathi Lackner, in 37 Räumen, Sculpturing Class Art-University Linz / AT
"um`s egg" Kunst auf 11m2 -Station Propeller, Linz / AT
"wegsehen" Gangart Gallery, Innsbruck / AT